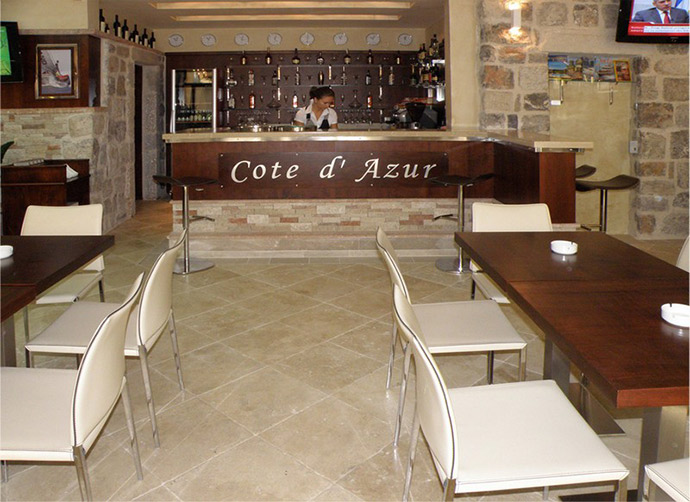 Just built ground floor cascade towers had to be converted in a cafe-restaurant. Requested an elegant style with natural materials.
Needed to adapt all, from facade to .., edges near aging church. With these requirements the owner and my ideas is created the "Azur". Architecture of Pastrovici of stone walls with neck is transformed to two-colored Niksic-stone. In white are: edging of the floor, wall, transoms, bar, flower boxes and consoles under the ceiling. In red are: sidewalks, and the horizontal portion of the wall on it. In between, the timber wraps are photo motives and indirect lighting.
| | |
| --- | --- |
| | |
Floor of the exotic wood crosses in travertine, as well as outside in the garden. On the ceiling are two illuminated maps from the Côte d'Azur and the ventilation grilles of wood and inox. Amang are two "Murano" milk-white chandeliers. Three holes also come alive. Cascade ceiling follows the podium. Furniture is in wood, leather and stainless steel. The chairs are from the "Bontempi", the leader of Italian furniture. Upholstered hassocks, wall rests, bar, retro-bar, tables, benches, flower pots, in a word all the wooden furniture, mostly cherry wood, made in worksop "Markovic".
Inox is characteristic for frames with a photo-animation, glass holders, under a bar moldings and fine details. The board of bar is Niksic-polished stone, and hides inside of all the requisite technique - except the wine cabinet. Next to it are elegant massive door. Leading to the kitchen.
On the bar is inscription "Cote d 'Azur. The surrounding motifs of Monte Carlo and sailing show why the owner gave name "Azur". The facade is of travertine. Stone flower boxes on the floor are with palms cikas. Sliding door paint wood share of the local gardens. When they are opened we can get more space. The inner flower pots made of wood with high vegetation give the interior sparkle. By "Azura" is office of the office of the owner company.