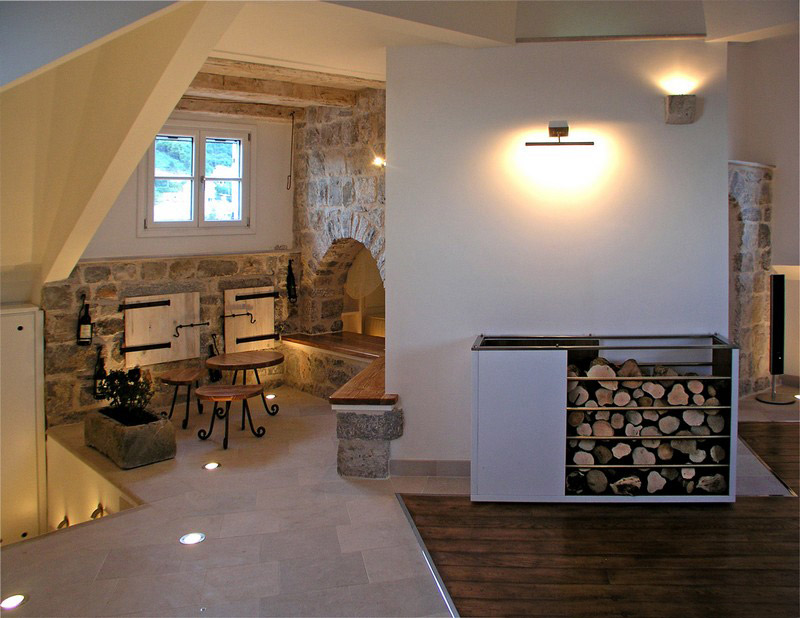 Unattended dwelling below roofing of palace in Budva owner decided to turn into de luxe apartment. He knew what he won't and not what he wants. He knew what he won't and not what he wants. He wish shine from all windows to be on one place, and that place had to have all summary of the apartment . That's the reason because toilet is in the center: to make border among segments.Part of apartment is made from old stairs of palace – now it become cabinet. Upward is another, small, lavatory. Stairways and part of floor are from best treated stone from Niksic. Rest of floor is oak. Floor-tubes are sparkling through space.
Rock from old wracks is imbedded. It is association of architecture of old Budva. Fixtures are hidden in marble desks.
Arc walls partly subtend sleeping part. In the other wall, underneath wooden window covers (for emulating of old windows), are electro and water-works. Basement of fire-place is dressing stone, in combination with rock from Niksic, and disappear in the ceiling with simply white form. Classic windows with white wooden covers are verywhere.
Beyond fire-place small bar split kitchen and daily welling. Part of ceiling is made of old beams and planks in white color. In the ceiling are movable stairways as way to cloak-room and water reservoir – in case of dry water piping. Kitchen is combination of white no-polished stone and wood in same color.
Toilets are from light travertine and stainless metal. Doors and accessories are from tempered glass. Apps are engraved rock, bonsai, forged details, tripods, and circle ceilings, from the one side, and modern works, from other – together are in original identity .