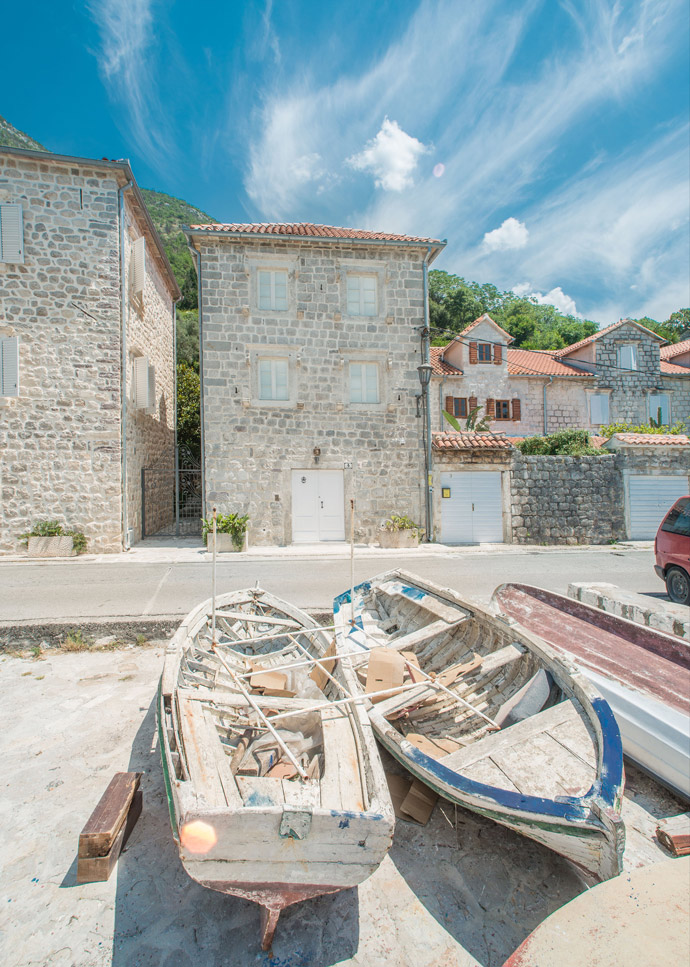 After several centuries, and change of ownership, two houses "on the see foam"in Perast came to restoration in one. They have to merge into one but to remain outside as they were from the beginning. Perast is a legally protected town of Boka Kotorska and any wrong intervention would be a desecration of cultural heritage.
External interventions needed to retain authenticity, and inwardly skillful alterations have blended in with the rustic, with the possibility of a return to its original appearance. The project was done by architect Tamara Suhih, with a sense of authenticity that I clearly understand. With long collaboration and work.
With combination of stone, metal, glass, wood, organic materials, the project has transformed the villa into a unique design on the coast of the Gulf of Boka Kotorska. The space is "minimalist" treated with the prominent architecture of modern times.
The stone walls were successfully preserved, although installations of all kinds had to be completed as well as static reinforcements. The cooling and heating systems are masked and invisible. The kitchen is central and modernist. The floors are mostly parquet and travertine. The stairways are floating, thus avoiding columns and walls, and the space is maximally "open".
Glass fences on metal structures are transparent and do not cover even single wall. The lighting is modern and there is enough possibility to make effects on stone by selecting individual lamps. The ceilings are supported by old wooden beams that have been bleached, and a trace of time is visible on them as well. The bathrooms are arranged for the enjoyment of the baths and the curiosity is the special rooms with waterproof parquet floors with a classic bathtub.
The room overlooks the sea, so boats and boats are often a pleasant decor. All the walls are re-grouted with light plaster and the ceilings are painted white. This makes the space visually larger. Looking from the shore, villa no. 4 looks untouched through times gone by. And it modestly continues to last.
during the works

...