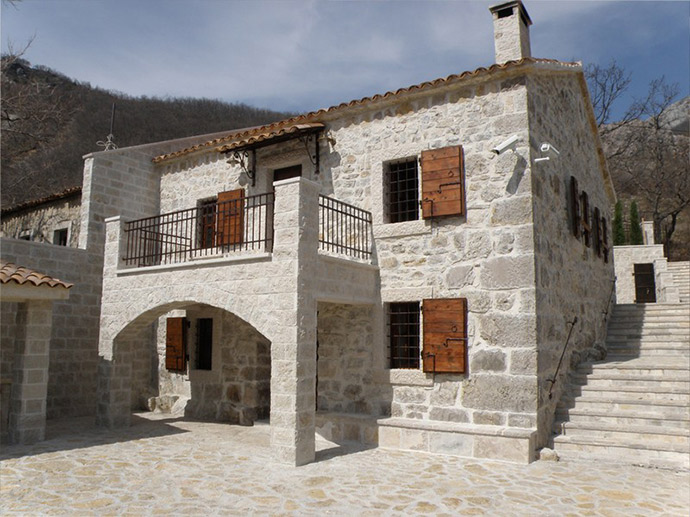 The old stone house on Sutorman, above Bar, from 1925. had to be restored. Its owners (architects) gave to me responsible task: to make in old villa complete comfort and keep original authenticity. At first, neglected the environment is cleared. Dimensions are increased vertical to obtain the required two-level height.
The main entrance is at the top. At the same level are living room, bedroom, bathroom, hall and terrace. Terrace has been added! Below it is another entrance on the lower level with dining room, kitchen, pantry and toilet. In front is a paved plateau on which is placed a covered summer kitchen with all amenities, including a brick pizza oven. The property extends cascading to streets below.
Plateaus are connected by stone steps, paved, fenced with iron segments between stone pillars. Starting at the bottom of cultivated grass fields, and also bounded cascade. All exterior is illuminated. The house also, covered with rustic tiles. Built a new stone frames around doors and windows with shutters. The joints on the house are bright. All the authentic stone is preserved and the new is processed to complete the harmony. The interior is made of natural materials. Doors made of wood, rustic plastered walls, joints are bright. The floors are of stoned, like stairs. Lighting is arranged to monitor the interior, switches and plugs also.

Heating is in the floor, with a boiler and radiators, energy given from wood or electricity. There is a wood stove. Toilets are made of travertine, mortar and coarse. Kitchen made of stone, wood and wrought iron.
The house is a fountain over a rocky bed to the wall and wall space for special water tank for water supply closet and pantry. Above the wall a is large flower pots, to the fence toward the street. This magical place, if you visit it, will surely leave you breathless!