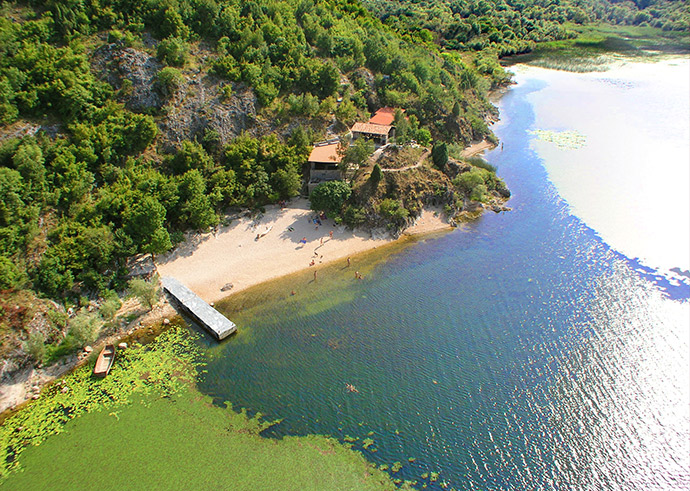 It is in the southern part of Lake Skadar, in the immediate vicinity of the village of Godinje, that a new tourist complex has arisen in a formerly inaccessible terrain, built in the Mediterranean-Montenegrin ethno style.
| | | |
| --- | --- | --- |
| | The surrounding vegetation has been cleared away revealing a beach of a matchless beauty! Wide stone stairs lead from the beach to sheltered terraces & tourist facilities spreading over several terraced levels. | |
| | | |
| --- | --- | --- |
| Underground inn & wine cellar, kitchen with pertaining ancillary premises, three apartments, bathrooms; as well as a yard with ancient remnants – there is a marvelous view of the isle of Grmozur and vast waters of the Lake. | Pjesacac, set in the surroundings of idyllic beauty, has already become known: representatives of the Rockefeller Foundation have visited the place and donated its funds for the protection of the Lake. | Stone-paved paths and walls link like a chain all the separate parts. Torches made of wrought iron illuminate the entire area making the ambience magnificent. |
No electricity, no roads. In complete harmony with the nature.
There is only a tiny path made through the shrubbery to the nearby road.
| | | |
| --- | --- | --- |
| Stone, wood, terra-cotta, wrought iron – predominant building materials. | | Fragments of the past - indispensable items used by the people of this region, originating from the last century. |