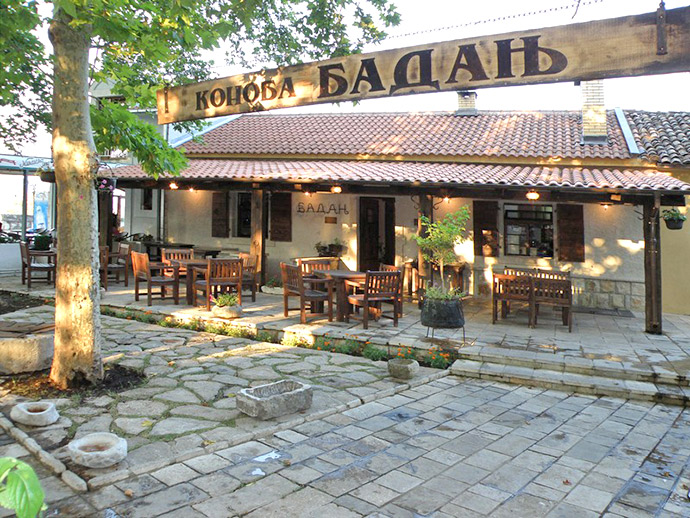 In Virpazar on Skadar Lake with attractiveness is dominated tavern Badanj. Of course to the century old house we gave a new look. Below tavern we dug a new area to which now lead authentic and traditional stairs. All in the stone.
Inside are folk objects from the life of the inhabitants of that region. From that are two emerges: on the lower promenade and a garden restaurant on two levels.
The lower level is below the distinctive stone bridge. The upper garden is partly covered with frame and the rest is under the plane trees. Paved and decorated with greenery. Restaurant is combined with stone, wood, beams and rough plastered walls. Interspace is between the hall and toilets. From ceilings is modified vehicular wheel with candles. On the walls are rustic lamps, motives from surrounding nature and typical souvenirs.
Tables and chairs are classics of wood. Plaid curtains and tablecloths complement the style. "Rejected" balcony from Perast continued here "life". With him was a wonderful view of the lake. The recesses in the wall are surrounded by the old beams. The beams are on the ceiling too. Inside and outside of tavern are various pieces of stone sculpture. Most filled with flowers. Jardinières had become a variety of barrels, kettles and items. To the tavern and you can sail with sleeve of Crmnica. For that purpose embroideries are madden.