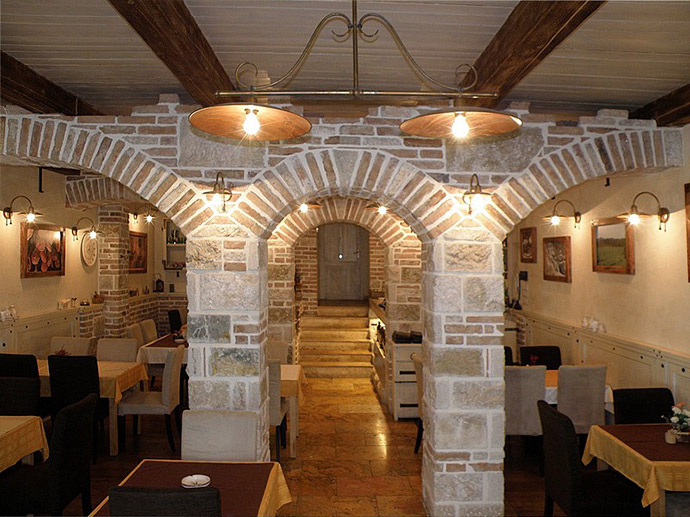 Unattainable desire of the owner of this restaurant was just a name, everything else left to me. After "intrusion" od my team commercial space in which was before the lounge car, took a completely different look.
A large empty space is divided on double arcade on stone-brick pillars. Evoke on the former Doclean aqueduct (disappeared through the centuries). Among the pillars on strong beams is floorboards mounted ceiling. The walls are wooden at start to a level where it continues with travertino technique.
They are decorated with wooden frames with pleasant motives and lamps that illuminate them. Lamps are on the pillars too, from ceilings chandeliers hang down. Upper bar is also illuminated from the same collection. Bar, below, is made of stone. On them, and above, are placed in special holders for bottles of wine. On the walls are old and "cupboard" purposefully done, rustic- beige colored, around are similar chairs, tables, and the rest of the furniture. Floors are a combination of oak and stone as well as stairways to the the kitchen.
Internal doors are painted as furniture. The entrance to the restaurant is transformed from the former aluminum hardware with special treatment, with combination of metal and wood, in a quite different look. Above is inscribed the name of the restaurant. In front is summer garden and during the summer season, thanks to wide doors, all is one space.