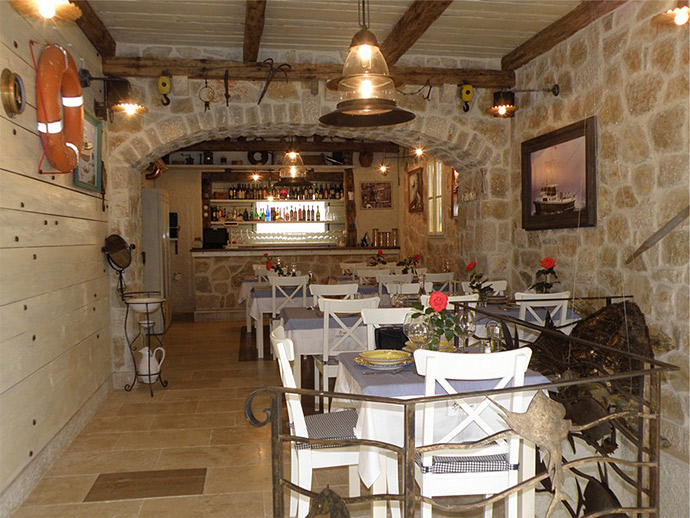 "Lupo di Mare" - fish restaurant in the center of Podgorica was made from watches shop completely destroyed inside. It consists of two levels connected by staircases and covered front garden.
The Mediterranean atmospheres dominate. Stone, wood, wrought iron, bright joints, a rustic-beige color, boards, beams and travertine are harmoniously linked. All are highlighted by products of Aldo Bernardi and rustic switches and electrical installation.
Tables, chairs, "cupboard" and other fittings of wood are in same color. Toilet hall is of the old beams. With stone-tiled roof as in old times. The cuisine of the restaurant is parted by chained door with shutters for food delivery. The central part is decorated with stone volt.
Plank ceiling beams are base for consoles. The lower part is more urban and noble. Handrail is decorated with motifs of the underwater world. Beautiful collection of sea souvenirs is all around set at the restaurant, as well as many old framed pictures.
The entrance portal of mighty stoned and door profile is simulated ship. Advertising is stylized swordfish with a few messages on it accurately illuminated. Under the garden are sets of tables and chairs made of wrought iron. Garden is paved with stone, partly divided by wooden segments. Shine coming from boat lamps.