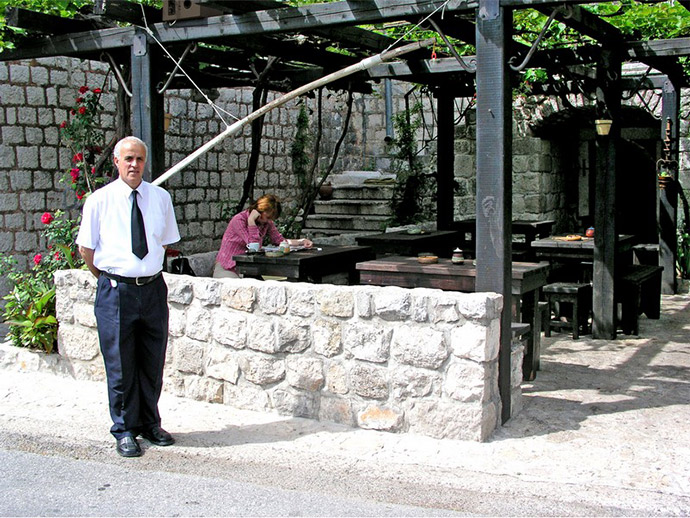 After restoration of an authentic house from from 1700 in the coastal town Perast, home of family Bronze in the past, become a tavern "Bronze Island".
The former interior & exterior appearance have been conserved in its entirety, with just a reinforced concrete slab added a new.
It is after the reconstruction that traditional stone-made cantilevers & wooden girders have remained as supporting structures for a match-boarded ceiling. There is an open-air summer restaurant occupying the plateau in front of the inn, with a cut-slate paving and stone fence. Massive wooden girders jointed with wrought iron ornaments dominate the entire garden space. bearing grapevines carefully preserved during building works. There is a natural spring in the midst of the house which bursts out during rainy periods ... gurgling through the inn along stone chutes, creating thus a sight of a curious but restful beauty. An old brick-made fireplace renovated to disseminate its heat all around. Benches & tables made of roughly-cut solid wood make an amazing harmony with the rest of the interior & its decorations of wood, iron, stone plastics...
The city of Kotor, together with Perast and surrounding cities, has been ranked by UNESCO among the treasures of the world's cultural heritage. Thus, a special approval by the Republican Institute for Protection of Cultural Monuments has been needed in order to be able to start restoration works. Our firm has been granted the approval thanks to its proven skill, applied techniques & utmost diligence.

Nicely started, it gave lot of nice memories for guests, but, unfortunately, after many years the owners had closed that place – decoration of Perast.