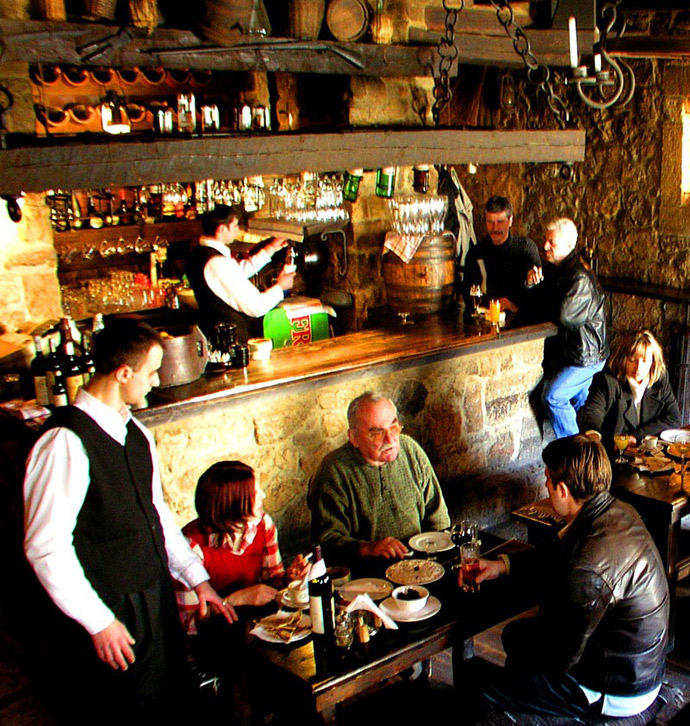 An authentic house of the former Prince Mirko's downtown of Podgorica has been restored & adapted to a pizzeria.

The old building was deserted, completely neglected & dilapidated. Only its frontal part has been repaired & conserved retaining its original appearance. Façade mortar has been removed, walls carefully cleaned, dressed stones revealed.
| | | |
| --- | --- | --- |
| | | |
| | | |
| --- | --- | --- |
| | The arched portal with capitals & wooden door with ironwork complement each other so beautifully | |

The old roof with its former structure has been removed & substituted by a new one supported by stone-made pillars. An open kitchen, bar & corridor leading to the next room are accommodated between the pillars. Souvenirs of remarkable museum & historical value adorn walls. The ceiling is composed of girders & boards. A chart wheel with refined wrought-iron decorations is used as a chandelier. Soft, indirect light comes from old oil lamps. There is an attractive combination of the boarding & stone-paved floor, with wooden tables, benches with backs affixed to the wall, barrel-shaped bar chairs, stools, ancient chests … everything is deliberately shaped to relate to the entire setting … In the bar, old roofing tiles serve as wine bottle holders. Such a peculiar detail: a stone column for beer tapping!
Above the bar, heavy wrought chains support the structure made of girders & wrought iron – both decorative & practical. There is a stone-made vault in the wall to the right, accommodating a wooden cask tied with braided ropes. Tiny streams of water from the cask drip down into an old stone trough.
| | | |
| --- | --- | --- |
| | The kitchen is open – embraced within the main room enabling thus the guests to enjoy pizza making in the open hearth of a stone-built stove. A barbecue is nearby. | |
| | | |
| --- | --- | --- |
| | A small corridor leads to another room decorated with wine bottles in wrought iron holders, hanging on wooden girders above. | |
There is a picturesque small garden in front, encircled within a stone wall & an old cart beautifully arranged into flower beds.
Stone-made troughs copper bowls, barrels – all of these full of flowers.

Wooden benches under two branchy maple trees – an oasis of restful beauty amidst the urban setting of Podgorica.


Unfortunately, here will almost decades, Calabria pizzeria ceased to exist on site, which is adorned Podgorica. These pictures and description are just fond memories. Because of property rights after fifteen years disappeared spell at this point. Long after the spirit, recipes and staff Calabria revived in a different setting. Also nice. But fans of the old, missing, room, lovers pleasant socializing, drinks and good food will not forget the atmosphere that they impatiently senses whenever they went there.